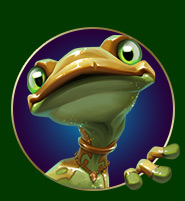 L'éditeur vous amène dans une aventure en pleine forêt de Whittlewood, laquelle est une forêt se trouvant en Angleterre depuis les temps médiévaux. Wild Tome of the Woods est l'histoire de Tome, un sorcier obsédé par l'idée de transformer les objets en or. Pourtant, à cause de cette obsession, ses compagnons et lui risquent de faire face à l'assaut de terribles chercheurs d'or.
Découvrez le monde mystérieux de la forêt de Whittlewood !
Ce jeu casino se déroule sur une grille de 6 rouleaux, 4 rangées et 26 lignes de paiement, dans une forêt dense enchantée. Dans Wild Tome of the Woods de Quickspin, vous aurez droit à des symboles et fonctionnalités spéciaux, particulièrement intéressants et lucratifs.
Le Livre rouge permet de déclencher la fonctionnalité spéciale Wild Tome. Une fois enclenché, le Wild Tome choisit un autre symbole au hasard sur la grille de jeu et le transforme en Wild. Au cours de cette fonction, certains des symboles Wilds obtenus peuvent se transformer en Wild Tome et provoquer des transformations en chaînes, jusqu'à vous permettre d'avoir une grille de jeu pleine de Wilds ! Si vous parvenez à remplir entièrement la grille de jeu, alors la fonctionnalité All Wilds Win s'enclenche. Cette dernière possède la particularité de doubler la capacité de rémunération des symboles normaux, et vous faire gagner jusqu'à 1 000 fois votre mise !
Retrouvez tout de suite la démo gratuite du jeu en cliquant ci-dessus ou cliquez sur le bouton JOUER POUR DE VRAI pour accéder à des mises réelles.
Date d'ajout : 29 Octobre 2019