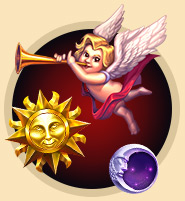 Betsoft Gaiming, éditeur de machines à sous à succès, vous proposer de jouer sur son dernier projet, le jeu de casino Tower of Fortuna !
Pour bien comprendre le fonctionnement de cette machine à sous et de ses bonus, il est important de rappeler ses différentes caractéristiques.
Ainsi vous êtes sur une machine à sous disposant de 5 lignes de paiement et de 3 rouleaux. Qui possède un taux de redistribution de 96.09% et qui accepte les mises comprises entre 0.60€ et 9.60€. Sa volatilité est donc moyenne.
Enfin, les gains maximum seront de 3 200x votre mise soit 30 720€ !
Quelles sont les particularités du jeu de casino Betsoft Tower of Fortuna ?
Évidemment vous jouez sur ce jeu de casino pour gagner de l'argent et pour cela, vous pourrez compter sur plusieurs bonus très pratiques, en voici quelques-uns :
Tower of Fortuna vous permet par exemple, qu'à chaque tour non gagnant, un bonus multiplicateur s'active et augmente de x1. Vous permettant de gagner de gros gains lorsque vous aurez enfin une combinaison gagnante ! Une sorte de protection contre la malchance (bad luck protection, comme dans les jeux vidéo).
Vous aurez aussi les symboles bonus Wild & Scatter, le premier vous permet de former des combinaisons plus facilement tandis que le second vous permet de gagner 10 tours gratuits !
Conclusion : Tower of Fortuna, est-elle une bonne machine à sous ?
Ce nouveau jeu Betsoft nous propose une expérience ludique et fun qui plaîra à de nombreux joueurs. Ses bonus, bien que peu nombreux, s'activent très fréquemment et peuvent offrir de gros gains aux joueurs.
La machine à sous Tower of Fortuna propose un fonctionnement gratuit ou payant : le premier vous servira en tant que démo pour esayer et découvrir le jeu tandis que l'autre mode vous permettra de gagner de l'argent réel !
Date d'ajout : 22 Septembre 2021