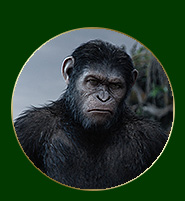 Tout le monde connait l'histoire de l'écrivain français Pierre Boulle, la Planète des singes. Le célèbre roman nous conte l'histoire d'une équipe d'astronautes de la NASA, ayant fait la découverte d'une planète où de grands singes y règnent en maître et où l'humanité est réduite à l'état d'animal. Aujourd'hui l'aventure continue au cinéma. De ces 3 films est né une nouvelle adaptation cinématographique avec l'histoire de Will Rodman, chercheur d'un remède contre la maladie d'Alzheimer qui travaille avec des cobayes chimpanzés auquel on a inoculé un rétrovirus. Leurs facultés cognitives se développent considérablement alors qu'un singe ayant la capacité de parler émmerge, un singe nommé César.
Au démarrage du jeu, vous reconnaitrez certains passages du film et vous serez plongé instantanément dans l'ambiance. Vous n'en reviendrez pas ! On sent bien que NetEnt s'est réellement surpassé aussi bien dans les détails esthétiques que dans les bonus de cette machine à sous à 5 rouleaux sur 20 lignes de paiement.
Bien sûr vous retrouverez les acteurs du film comme symboles. A la fois le décor, les extraits du film ainsi que des scènes d'animations se dévoilant selon les combinaisons gagnantes, confère au gameplay un aspect fascinant et complètement novateur dans le jeu de casino en ligne. De plus l'immersion devient totale lorsque Cesar apparaît sur les rouleaux et que le tumulte de plusieurs singes brise les vitres du labo pour s'échapper. On a l'impression d'y être !
Partez pour une aventure captivante dans la machine à sous Planet of the Apes !
La machine à sous Planet of the Apes intègre tous les ingrédients du film rien que par son écran de jeu séparé en deux zones, Rise et Dawn. On peut donc découvrir pour la face Rise le Wild en doré, César en symbole du Scatter, la tête de César, Koba le chimpanzé balafré et à moitié aveugle, Caroline Aranha vétérinaire du zoo, Charles le père de Will, Dodge Landon le fils du gardien du refuge pour primates. Pour la face sombre ou Dawn on peut découvrir le Wild en rouge, César pour le Scatter, la tête de César, Buck le singe balafré, Malcolm, Dreyfus et Ellie.
La machine à sous Planet of the Apes comporte diverses fonctionnalités très intéressantes de part son formidable gameplay et les bonus qui sont intégrés. Un jeu gratuit de casino à découvrir absolument ! Essayez-la en mode démo gratuit en cliquant sur le lien ci dessus ou inscrivez vous pour une partie avec des mises en argent réel et JOUEZ POUR DE VRAI !
Date d'ajout : 11 Decembre 2018