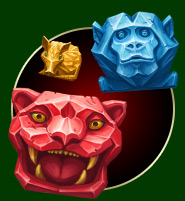 Influencés par les anciennes civilisations mésoaméricaines, la machine à sous 3D Temple of Nudges vous accueille dans un temple en pierre flanquée de deux serpents. Les rouleaux tournent le long d'une bande sonore tranquille et reposante.
En toile de fond, vous verrez un paysage de jungle luxuriante avec une végétation qui se balance sous le vent. Et, comme d'habitude avec NetEnt, les graphismes sont magnifiques !
Amassez des tas d'or grâce aux lucratives features de Temple of Nudge !
Avec la fonctionnalité Nudge, vous verrez des combinaisons gagnantes déclencher des réactions en chaîne en pagaille ! Étant donné que les symboles apparaissent complètement empilés sur les rouleaux, la fonction Nudge conduit souvent à plusieurs victoires consécutives !
Il existe également une fonction Re-Spin où les symboles gagnants restent collés tandis que les symboles restants se re-tournent. En outre, la fonction Nudge peut également continuer après la fin du tour Re-Spin pour cumuler des gains supplémentaires !
La valeur des symboles est étonnamment faible, nous devons le souligner. Sur les rouleaux, vous trouverez des serpents, des temples, des oiseaux, des soleils, des singes, des paresseux, des fourmiliers et des jaguars sculptés dans la pierre, ce dernier étant le plus lucratif, vous donnant 0,36x pour 5 sur une ligne de paiement ou 87,48x pour un plein écran. Le jeu ne comprend aucun Symbole Scatter ou Wild.
Découvrez cette merveilleuse machine à sous signée NetEnt et sortie tout récemment. Pour jouer en gratuit, rien de plus simple il vous suffit de cliquer sur la fenêtre ci-dessus ou de cliquer sur le bouton JOUER POUR DE VRAI pour jouer avec de l'argent réel et encaisser votre cagnotte !

Date d'ajout : 22 Mai 2019