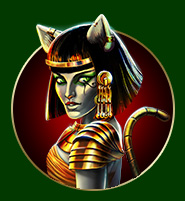 Voyagez dans le temple de Dieux Egyptiens à travers la machine à sous Coins of Egypt™ ! Vous démarrez vos fouilles dans l'une des plus mythiques machine à sous au monde ! Offrez-vous un voyage unique vers tout ce qu'il y a de plus beau dans la mythologie égyptienne. Vous allez ainsi pouvoir replonger dans l'histoire du Panthéon de Dieux !
Les statues de ces deux divinités Egyptiennes se situent de chaque côté de la machine à sous Coins of Egypt™ composée de 5x3 rouleaux à 20 lignes de paiements. L'éditeur Suédois NetEnt exprime une fois de plus son génie créatif en nous emportant vers l'Egypte Antique avec des graphismes au top niveau. En prime, NetEnt n'a d'ailleurs pas tarie la slot d'options de jeux mais aussi d'animations spectaculaires, à travers une mystérieuse ambiance aux douces mélodies orientales…
Tentez de découvrir les trésors de l'ancienne Egypte et ses bonus cachés !
Les bonus de Coins of Egypt™ sont très amusants surtout que des Scorpions, Serpents et autres Scarabées accompagneront les divinités de l'Egypte sur les symboles en jeu. Chaque brique qui constitue l'entrée du Temple des Dieux représente un symbole. Le Wild d'or substitue les symboles et se montre généreux envers les parieurs à chaque combinaison gagnante. Le Pharaoh Coins Win Feature est un bonus qui peut s'activer en mode standard, 1 à 3 pièces du Pharaon dont la valeur varie de 2 à 15 fois la mise apparaitront sur les rouleaux 1, 2 et 3 à chaque spin. Toutes les pièces seront collectées et ajoutées à chaque combinaison gagnante du tour actuel.
Le mode Free Spins fait partie de la machine à sous Coins of Egypt™, activez-le avec 3 Scatters sur les rouleaux 1, 3 et 5. Au commencement des Free Spins, la valeur totale des pièces présentes sur les rouleaux sera ajouté à chaque coffre. Jusqu'à 3 crédits, un par rouleau, peut apparaitre sur les rouleaux 1, 2 et 3 à chaque spin du mode Free spin. Leur valeur sera immédiatement ajoutée aux coffres. Il y a 3 symboles de clés dont le Chat d'or, l'Aigle en Rubis et le Serpent serti d'Emeraude, chacuns de ces symboles correspondant à chaque coffre qui peuvent apparaitre sur le dernier rouleau. Réussissez à en collecter au moins 3 identique pendant les Free spins pour remporter le montant du coffre. Obtenez le maximum de clé pour récupérer la richesse de l'Egypte Antique dans ce jeu captivant développé par Netent !
Vous pouvez avoir un aperçu des personnages uniques ainsi que de ses diverses fonctionnalités avec la démo gratuite de la machine à sous à découvrir ci-dessus. En revanche, vous pouvez faire le choix d'encaisser de l'argent réel en cliquant sur le bouton JOUER POUR DE VRAI !
Date d'ajout : 12 Decembre 2018