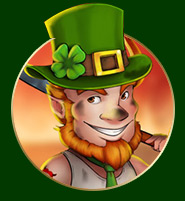 Dans la machine à sous Leprechaun goes to Hell, l'univers fantastique de cet elfe traditionnel sera bouleversé par un environnement ténébreux au gré de fonctions de jeu plus qu'ahurissantes !
Oubliez désormais les grandes plaines irlandaises que l'on peut voir dans d'autres jeux de casino basés sur le Leprechaun. La machine à sous Leprechaun goes to Hell est composée de 5 rouleaux et 3 rangées de symboles, placés au beau milieu d'une grotte infernale, où brûlent le feu de l'enfer.
Cherchez les chaudrons d'or au coeur de l'enfer même !
Vos spins seront rythmés par un Rock N Roll à consonance irlandaise, des cris horrifiants se laisseront entendre alors que des flammes de l'enfer jailliront de tous les côtés à chaque apparition du symbole représentant la demeure de Satan.
Le Bonus Infernal pourra se déclencher avec 3 Symboles d'Evilene, la diablesse sexy qui vous
accompagnera tout le long de votre la partie. A chaque fois qu'un cœur de démon apparaît durant ce bonus, un Spin infernal supplémentaire vous sera accordé. Plus votre mise sera élevée et plus la température augmentera, vous aurez ainsi plus de chances de toucher le Jackpot de Leprechaun Goes to Hell.
Caché au plus profond des enfers, d'énormes Chaudrons d'or sont à dénicher pour toucher 10 Free spins avec des gains multipliés par 2. Trouvez 3 Chaudrons sur un même spin et tentez de gagner jusqu'à 50000 crédits !
Date d'ajout : 16 Octobre 2018