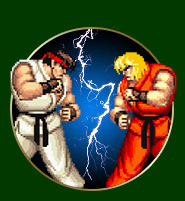 Il peut être compliqué de se retrouver parmi toutes les sorties de machine à sous et un avis objectif, décrivant factuellement l'une des machines à sous les plus populaires peut appréhender le "feeling" que l'on pourrait avoir avec cette dernière. Vous êtes au bon endroit.
La machine à sous vidéo Street Fighter 2: The World Warrior Slot vous offre un jeu 5x5, vous donne aussi le choix de parier de 0.20€ à 700€ et vous propose un RTP (Taux de retour au joueur) de 96.06%
Vaincre le casino en ligne français grâce aux bonus de la machine à sous Street Fighter 2
Vous commencez à jouer en choisissant l'un des 8 combattant qui figuraient également dans le jeu d'arcade de base.
Tous les combattants auront un modificateur bonus différent, apportant des symboles bonus Wild (Un joker qui peut être combiné avec tous les autres symboles) de différentes manières.
Ils peuvent les faire atterrir à des endroits aléatoires, sur la même bobine ou ligne, ils peuvent être empilés verticalement ou horizontalement. N'importe où de 1 à 7 jokers peuvent être ajoutés à la zone de jeu, mais les nombres sont différents pour chaque personnage.
La jauge Wild est un compteur visible au-dessus de chacun de ces personnages. Cette jauge se rempli lorsque vous créez des groupes gagnants avec des symboles de haute valeur qui représentent les personnages qui s'affrontent. Pour obtenir le modificateur de chaque personnage, vous devez remplir le compteur.
Remportez les combats pour multiplier vos bonus sur le jeu de casino Street FIghter 2 !
Les rounds de combat permettront à votre combattant d'affronter son adversaire et de gagner ou perdre en fonction de votre change. Un combat perdu vous donnera accès au jeu bonus qui vous fera gagner jusqu'à 15x la mise.
Si vous gagnez le combat, les Tours Gratuits sont déclenchés. Ces derniers se terminent lorsque vous êtes vaincu. Si vous gagnez, vous passez au niveau suivant, avec un multiplicateur croissant à chaque fois. Le quatrième boss, M. Bison, multipliera les gains par 10 en cas de défaite. Venez à bout de M. Bison pour être également récompensé par un multiplicateur de gain, d'une valeur de 100 fois la mise.
Si la fonctionnalité se termine par une défaite, vous pouvez utiliser une option de pari, en utilisant les gains collectés jusqu'alors avec un RTP (Taux de retour au joueur) plus élevé !
Je veux jouer en version payante avec de l'argent réel à la machine à sous Street Fighter 2, où est-ce que ça se passe ?
Pour jouer en version payante à la machine à sous en ligne Street Fighter 2: The World Warrior Slot, il vous suffit simplement de cliquer sur "Jouer en réel" ou "Jouer pour de vrai" et de vous inscrire sur votre casino français en ligne préféré.
Remplissez vos informations de paiement et gagner le gros lot grâce à la machine à sous de NetEnt qui vous rappellera sans doute vos meilleurs partie de jeu !
Date d'ajout : 5 Août 2020