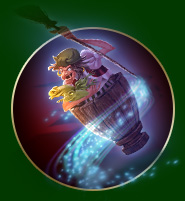 Incarnez le rôle d'Ivan et combattez l'immortel Roi Koschey ! Dans les contes russes, Kochtcheï est un personnage immortel très populaire. L'âme de Koschey serait cachée dans une aiguille qui est elle même cachée dans un oeuf, puis dans un canard, puis dans un lièvre et pour finir dans un coffre. Vous devrez retrouver ce coffre, tuer le lièvre, capturer le canard, ouvrir l'oeuf et casser l'aiguille pour vaincre le Roi maudit. L'aventure sera truffée d'embûches et il se pourrait bien que vous croisiez en chemin la Sorcière Baba Yaga, une figure marquante du conte russe qui vous délivrera une aide précieuse.
La machine à sous Ivan and the Immortal King est fascinante et vous fera vivre des moments épiques et merveilleux. Situé en pleine nature dans un monde magique, vous verrez divers éléments s'inviter sur cette grille à 5x3 rouleaux et 20 lignes de paiements et qui nous rappellent les légendes du héros Ivan Tsarevich : Le Héros, la Princesse, le Roi Immortel, le Dragon et le Loup figureront parmi les symboles du jeu.
Saisissez les Symboles Spéciaux du jeu comme le Wild de substitution, le Coffre-fort et le Progress Scatter !
Trouvez le Coffre-fort et détruisez son contenu pour vaincre Koschey et pour repartir avec son trésor ! Sur votre chemin, Baba Yaga vous attend au détour d'un sentier. Si par chance elle est de bonne humeur, elle apparaitra et cachera 4 Symboles aléatoires pour les remplacer par 3 Coffres-forts ou par des Progress Scatters. Vous remporterez probablement un gain suite à cette Features Bonus !
Si vous réussissez à réunir 3 Scatters ou plus, le mode Free Spin se déclenchera pour délivrer au joueur de 10 à 18 Free spins selon le nombre de Scatters récolté. Vous pourrez augmenter de niveau en collectant assez de Progress Symbol pendant les Free spins. Les niveaux permettent d'augmenter le Multiplicateur de gain associé à chaque spin. A chaque fois que vous progresserez, vous remporterez 4 spins supplémentaires. Il existe 6 niveaux de Free Spins à commencer par le Coffre-Fort jusqu'au Roi Immortel là où le Multiplicateur de gain atteint x20 votre mise de départ!
Nous vous souhaitons bonne chance dans votre quête dans Ivan and the Immortal King. Découvrez ce monde merveilleux et passez un moment agréable en compagnie de tout ces personnages issus de contes russes. Lancez-vous maintenant sans pression en démo sur cette même page pour commencer ou cliquez sur le bouton JOUER POUR DE VRAI pour vous inscrire pour encaisser des sommes d'argent réelles !
Date d'ajout : 20 Mars 2019