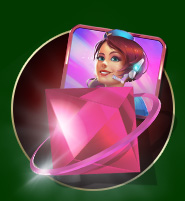 Ambiance SF old school mais remis parfaitement au goût du jour avec des graphismes de pointe : c'est la machine à sous Tickets to the Stars ! Installé dans une station spatiale, ce slot casino vous prépare pour un voyage aux confins de l'espace. On aperçoit au second plan, un couple se tenant sur la plateforme prêt à embarquer à des milliards d'années lumières…
Vous pourrez aussi miser de 0.25 and 100 EUR tout en profitant d'un RTP de 96.52%. Avec un design résolument travaillé et très immersif pour tous les fans de science fiction, Ticket to the Stars vous est présenté par Quickspin et dispose de 5 rouleaux et de 25 lignes de paiement.
Profitez des gains consécutifs qui augmentent le Multiplicateur et vous donnent des Tours gratuits supplémentaires !
Regardez bien, les pierres précieuses rouges, roses, vertes, bleues et transparentes présentes sur les rouleaux seront les premiers gains à obtenir alors que les Valises, les Bouteilles de champagne, les Robots majordomes, les Hôtesses et les Pilotes promettent des gains bien plus rémunérateurs. Le Pilote sera d'ailleurs le plus payant, proposant de remporter 1, 6 ou 20 fois votre mise pour 3, 4 ou 5 sur une ligne de paiement. Le Joker d'or (Wild) paiera autant que le Pilote. Il pourra atterrir et se figer sur les rouleaux pour étoffer votre cagnotte ! Le mode Free Spin sera accessible lorsque vous obtiendrez 3, 4 ou 5 Symboles de la Tour de contrôle et gagnerez ainsi 15, 20 ou 25 Tours gratuits !
La Feature Swooping Reels sera valable tout le long de votre voyage et pourra déclencher une réaction en chaîne très avantageuse en terme de gain où tous les symboles gagnants exploseront pour être immédiatement remplacés par de nouveaux symboles. Cette cascade pouvant vous rapporter jusqu'à 10000 fois pour mise, se répètera ainsi jusqu'à ce que vous n'ayez plus de combinaisons gagnantes !
Le slot Ticket to the Stars™ est l'un des jeux de casino en ligne qui marque le plus ce début d'année 2019. Pour cause, on s'enivre de ce gameplay original où l'action principale viendra aussi des Fonctionnalités Free Spins et des Multiplicateurs de gains illimités à saisir ! En conséquence, cette machine à sous très volatile peut vous rapporter 9 914,2 fois votre mise totale à chaque Free Spin ! Essayez cette machine à sous en ligne de l'espace dès maintenant en cliquant sur le lien ci-dessus ou cliquez sur le bouton JOUER POUR DE VRAI pour vivre l'expérience en réel !
Date d'ajout : 20 Mars 2019