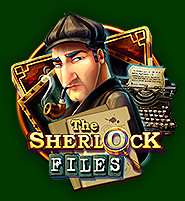 Développée par RedRake Gaming, la machine à sous The Sherlock Files permet de suivre une enquête du plus grand de tous les détectives, alias Sherlock Holmes.
Menez les enquêtes de Sherlock Holmes !
Comme les autres créations de cet éditeur, un soin a été tout particulièrement apporté aux graphismes avec une ambiance typiquement victorienne et reproduisant fidèlement le bureau du personnage avec son mobilier, sa lampe à cuivre ou encore sa machine à écrire.
Au premier plan de ce décor très réussi figure la machine à sous dont le cadre est constitué de différents mécanismes très représentatifs de l'esprit bouillonnant du célèbre détective. The Sherlock Files se compose de 5 rouleaux de 3 rangées chacune offrant ainsi au joueur 30 lignes de paiement.
Des bonus, des bonus des bonus !
Lors de chaque lancée d'un spin, une animation fera tournoyer les symboles, le tout agrémenté d'une musique retranscrivant fidèlement l'atmosphère d'un bon film policier. En cohérence parfaite avec l'univers du détective, chaque symbole renvoie à une arme du crime, qu'il s'agisse d'un poignard, d'un pistolet ou encore d'une fiole de poison mais de potentiels assassins figurent aussi parmi ces symboles comme le jardinier ou la femme de ménage.
Certains symboles de The Sherlock Files offriront des free spins. De même, les symboles spéciales représentant les suspects génèreront chacun des bonus particuliers selon le personnage : Un wild pour la femme de ménage, des tours gratuits pour le jardinier ou encore des gains multipliés par 6 grâce au majordome.
La machine à sous s'avère particulièrement généreuse en terme de gains lorsque le joueur parvient à passer en mode bonus. Offrant une immersion de tout premier ordre dans le monde passionnant et mystérieux du fameux détective anglais,
Que penser de cette machine à sous signée Red Rake Gaming ?
The Sherlock Files est une machine à sous qui propose un gameplay de qualité avec suffisamment de bonus pour maintenir l'intérêt du joueur à son plus haut niveau jusqu'à l'issue de l'enquête.  
Date d'ajout : 8 Novembre 2017