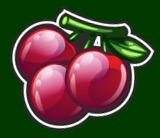 La machine à sous Fruits and Stars dispose de 5 rouleaux, 3 rangées et 5 lignes et a pour thème les classiques fruits de machine à sous que l'on retrouve souvent dans les casinos. Un jeu de quitte ou double, qui s'active à chaque gain, vous permet de le doubler ou de tout perdre!
Informations techniques sur la slot Fruits and Stars
Le taux de retour au joueur s'élève à 95.72%. La valeur d'un jeton peut varier entre 0.01€ et 50€ tandis que le joueur peut miser de 1 à 5 jetons par ligne de paiement. La slot est disponible aussi sur mobile et smartphone dans une version "allégée".
Avec le mode démo activé ci-dessus, vous pouver jouer gratuitement sur la machine à sous Playson Fruits and Stars puisqu'un compte joueur fictif est créer pour l'occasion. Découvrez ainsi tous les secrets que renferme cette machine à sous vidéo ;)
Date d'ajout : 27 Mai 2016