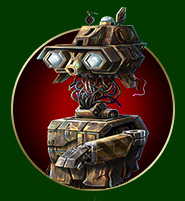 Une machine à sous vidéo vraiment exceptionnelle s'offre à vous ! Attendez-vous à voir apparaitre sur l'écran de nombreux chocs électriques et explosions de symboles pour former les Wilds tant attendus ! Vous céderez à coup sûr à l'univers robotique de la machine a sous Wild-O-Tron 3000 de Netent. Sortie des studios de la firme depuis Décembre 2018, ce jeu casino à l'interface à 5x3 rouleaux de 20 lignes de paiements vous immerge dans un cimetière de cyborgs inquiétant inspiré des films des années 60. Votre mission : Gagner les pièces de votre robot et assemblez-les les unes aux autres.
Il existe 7 Robots composées de 3 parties différentes. Chaque robot ne rapportera pas le même gain. En effet, les cyborgs les plus rouillés et les moins opérationnels seront en bas du tableau des gains, tandis que le Robot Rouge, le Orange ou le Jaune rapporteront plus de crédits au parieur. Vous pourrez jouer en toute quiétude qui plus est sur tous vos navigateurs web PC / MAC et système Android / IOS. De quoi être dépaysé et propulsé dans l'espace au pays des robots, tout en étant confortablement installé dans votre fauteuil.
Quand vous gouterez aux Features spéciales, vous verrez qu'il est facile de gagner gros sur Wild-O-Tron 3000 !
Un Wild de substitution figurera parmi les symboles du jeu, c'est l'élément le plus puissant de la partie et il pourra remplacer chaque symbole du jeu par un Joker. A tout moment, vous avez une chance de débloquer le mode Wild-O-Tron. Durant ce bonus, 1 à 6 symboles pourront se transformer en Wilds, alors que les lampes colorées localisées en dehors des rouleaux s'allumeront et s'harmoniseront aux couleurs des symboles transformés.
En résumé, un gros potentiel de fun comme il était attendu vous est promis sur cette toute nouvelle venue dans la ludothèque NetEnt ! Avec un RTP de 96,01% et une volatilité moyenne, Wild-O-Tron 3000 rejoint la thématique science fiction et d'autres jeux de robots exceptionnels comme Big Bot Crew ou Tickets to the Stars de Quickspin ! Essayez le bandit manchot en ligne dès maintenant en cliquant ci-dessous ou cliquez sur JOUER POUR DE VRAI pour vivre l'expérience en réel !
Date d'ajout : 18 Mars 2019