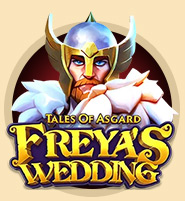 Freya's Wedding est un nouvel épisode de la série « Tales of Asgard » éditée par Play'n Go. Après s'être fait dérober son marteau Mjollnir par le roi des géants, Thor doit s'infiltrer dans son palais déguisé en Freya, une déesse que le roi a demandé en mariage, pour tenter de le récupérer.
Vous vous en doutez, une idée aussi farfelue ne peut venir que du dieu de la malice, Loki, qui accompagne Thor dans cette aventure. Cette histoire bien que comique fait bel et bien référence à un conte de la mythologie scandinave et il est plaisant de voir qu'il a aussi droit à son adaptation.
Sur le principe le jeu est une machine à sous à 5 rouleaux avec 30 lignes de combinaisons, un jackpot pouvant grimper jusqu'à 2 500 fois sa mise et des mises allant de 0.30€ à 90€. La partie prend place dans le palais du roi Thrym sous la neige de Jotunheim, le monde glacial des géants et les différents symboles à aligner représentent : des dieux, des pierres runiques et des victuailles, les banquets étant très présents dans la culture nordique.
Des bonus du tonnerre vous attendent !
Pour ce qui est des bonus nous avons les symboles WILD de taille 1x1, qui ne sont autre que Thor déguisé. Ce symbole peut en remplacer un autre (excepté symbole Scatter) et vous aider à compléter une ligne. Il se peut aussi qu'il apparaisse entièrement de manière aléatoire et occupe tout un rouleau, vous permettant plus de combinaisons !
Ensuite viennent les symboles Scatter. Ils arborent le fier marteau de Thor, Mjollnir, dont la puissance dévastatrice se ressent à travers l'écran et qui rappelons-le est l'objet de votre quête. Si vous aimer le roleplay, vous serez doublement contents de tomber dessus ! Alignez-en 3 pour que Thor se révèle et affronte les géants pour vous accorder jusqu'à 10 lancers gratuits. Il vous servira également de jeton Wild pendant ce bonus, occupant tout un rouleau de la machine.
Conclusion : notre avis sur cette machine à sous ¨Play'n Go
Freya's Wedding est une machine à sous vidéo assez classique dans son fonctionnement mais avec une thématique et un visuel très cool !
Les animations de combat entre Thor et Thrym sont très poussées, ce qui assez inhabituel pour ce genre de jeu, dont les décors sont en général plutôt statiques. Etant fan de mythologie nordique, je ne peux qu'encourager Play'n Go à continuer leur série « Tales of Asgard » et vous recommande d'y jeter un œil (…comme Odin) !
Date d'ajout : 12 Mai 2022