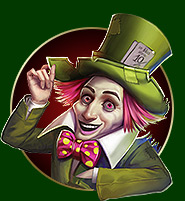 Troisième volet de la série Rabbit Hole Riches, Agent of Hearts est une machine à sous passionnante offrant de nombreux bonus, toujours sur le thème d'Alice au Pays des Merveilles !
Le but est d'obtenir le plus grand groupe de symboles (5 ou plus) afin de former un "Cluster". Seul le gain attribué au symbole le plus haut du cluster est pris en compte, puis les symboles gagants sont supprimés et de nouveaux symboles arrivent en cascade pour combler les "trous".
Bonus et spécificités du jeu d'argent Agent of Hearts
• Cupcake du Loir : Le Loir traverse la grille de haut en bas, laissant une traînée de bombes à cupcakes derrière lui. Les bombes à cupcakes explosent et suppriment les symboles en dessous ou les transforments en un symboles Wild.
• La fumée de la chenille : La chenille souffle une à trois traînées de fumée à travers la grille en lignes diagonales. La fumée supprimera les symboles en dessous ou les transformera en un symbole sélectionné au hasard.
• Sourir du chat : Le sourire du chat du Cheshire apparaît sur la grille, supprimant les symboles en dessous ou les transformant en symboles Wild.
• Le chapelier fou : Six à neuf chapeaux du Chapelier fou apparaîtront sur la grille. Les chapeaux tournent et suppriment tous les symboles adjacents avant de transformer le symbole en dessous en un symbole Wild.
Récupérez trois clés en un tour pour déclencher le Queen's Heart Free Spin (les Tours Gratuits). Le bonus tours gratuits de Queen's Heart est un bonus unique qui ne peut pas être redéclenché car les clés sont supprimées de la grille, et plus aucune clé ne peut apparaître pendant ce bonus.
Date d'ajout : 23 Août 2021