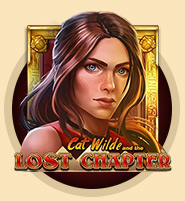 Avec « Cat Wilde and The Lost Chapter », l'aventurière intrépide revient pour un nouvel épisode sur l'Égypte Antique.
Après avoir parcouru le livre des morts, un artefact transmis dans sa famille depuis des lustres, Cat se rendit compte qu'une partie de son contenu était manquante, un chapitre entier ! Elle se mis donc en quête des pages disparues.
Nous la retrouvons alors dans un tombeau pharaonique rempli de trésors face à Anubis, le dieu des morts, et la partie peut commencer. Le jeu est une machine à sous de 3 par 5, avec 10 lignes de combinaisons gagnantes.
Vous pourrez y miser entre 0.10 € et 100 € par lancer mais attention, le système est un peu particulier car c'est à vous de décomposer cette mise en 3 paramètres : nombre de pièces (de 1 à 5), valeur d'une pièce (de 0.01€ à 2€) et nombre de lignes (de 1 à 10). Le produit des 3 déterminera le montant de votre mise. Pour ce qui est des icones du jeu, nous avons Cat et Anubis, mais aussi une croix ansée (Ânkh) et un scarabée qui sont des symboles très importants dans la culture égyptienne.
Il y a également les 5 cartes les plus fortes du jeu de carte traditionnel (as, roi, dame, valet et 10), représentés sous forme de pierres précieuses. Les symboles WILD apparaissent quant à eux comme des papyrus ornés de W dorés.
Une pyramide de richesses !
Les Scatter, qui sont de magnifiques pyramides, fonctionnent de manière un peu particulière sur ce jeu. En obtenir 3 à l'écran vous octroie 8 tours gratuits. Pendant ces tours gratuits ils gagnent également le rôle WILD, vous permettant d'obtenir des gains plus facilement ; et à chaque tour, l'un des symboles de base est sélectionné aléatoirement et devient un EXPANDING SYMBOL, se propageant sur les cases autour de lui pour augmenter les chances de combinaisons.
Mais ça ne s'arrête pas là ! Obtenir 3 WILD SCATTER vous permet de débloquer 2 tours sur un nouveau type de lancer, le PYRAMID SPIN, durant lequel chaque Scatter est un ticket pour un tour supplémentaire ! 
Il se peut également que le jeu vous propose de parier les gains que vous venez d'obtenir. Ce mini-jeu se base sur un tirage de carte. 2 possibilités :
choisir entre rouge et noir pour doubler vos gains
choisir une couleur (pique, trèfle, cœur, carreau) pour quadrupler vos gains.
Si vous perdez votre pari, vous perdez vos gains, mais si vous gagnez vous pouvez retenter votre chance. Il y a toutefois une limite aux gains que le pari peut vous apporter.
Bilan de l'expédition
« Cat Wilde and the lost Chapter » est un jeu avec un superbe visuel, plein de pierres précieuses et de dorures. L'Egypte Antique est l'environnement idéal pour les explorateurs et les chasseurs de trésors.
On peut déplorer un petit manque d'animation au niveau des personnages mais avec son esthétique remarquable, son gameplay de tours bonus évolutifs et de paris, il réussit tout de même à captiver le joueur ! Je vous conseillerais donc d'aller l'essayer ne serait-ce que pour en prendre plein la vue !
Date d'ajout : 24 Mars 2022