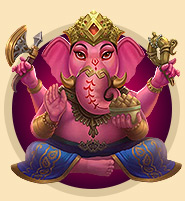 Idol of Fortune est une nouvelle machine à sous de type bandit manchot de l'éditeur Play'n Go. Elle reprend l'univers de la mythologie hindoue en mettant le joueur en face de l'un de ses plus puissants et plus vénérés dieux : Ganesh, le dieu de la sagesse à tête d'éléphant.
Il trône dans son palais et est accompagné d'animaux sacrés représentés sur les symboles colorés de la machine comme s'ils venaient de prendre vie et sortir d'un bas-relief : un éléphant, un lion, un oiseau, un serpent et une souris. Saurez-vous attirer leur bénédiction pour qu'ils vous aident à remporter le jackpot de 10 000 fois votre mise ?
La grille du jeu a une taille classique de 3 cases par 5 mais son interface est bien travaillée. Il possède 243 lignes de combinaisons gagnantes et vous pouvez miser jusqu'à 100 euros par tour sur cette machine.
Atteignez le Nirvana avec les bonus de ce jeu
Le dieu Ganesh est représenté sur le symbole Scatter. Si vous avez la chance d'en voir apparaitre 3 à l'écran, vous activerez la fonctionnalité des tours gratuits. Le nombre de spin n'est pas fixe, vous avez le choix entre 6 options qui font varier le nombre de tours ainsi que le nombre de symboles mystère qui apparaitront pendant le bonus :
20 free spins + 8 symboles

15 free spins + 18 symboles

12 free spins + 28 symboles

10 free spins + 38 symboles

8 free spins + 48 symboles
Les symboles mystères viennent se superposer à la grille, restent entre les tours jusqu'à être utilisés et s'étendent verticalement, vers le haut ou le bas. Ils prennent l'apparence d'un symbole particulier pour favoriser les chances d'apparition de combinaisons.
Nous avons ensuite les Golden Reels. Après une victoire vous avez une chance que l'un des rouleaux de la machine devienne doré. Si un symbole WILD tombe sur un rouleau doré, vous gagnez accès au jeu bonus, pour gagner assurément un WILD prize !
En quoi consiste le jeu ? Il y a 4 jackpots différents et vous avez face à vous 12 jetons face cachées. Le premier groupe de 3 jetons que vous rassemblé vous octroiera le prix correspondant.
Conclusion : Notre point de vue sur Idol of Fortune
Les machines à sous basées sur des mythes et légendes sont souvent bien designées et « Idol of Fortune » ne fait pas exception à la règle.
En plus de son aspect mystique très cool, c'est un jeu qui propose de bonnes fonctionnalités, dont un jeu bonus qui fait appel à votre chance mais aussi votre sagesse car influencé par les décisions des joueurs !

Date d'ajout : 21 Septembre 2022