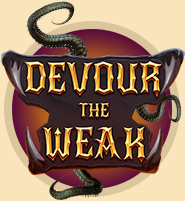 La machine à sous Devour the Weak, développée par Yggdrasil Gaming, est un jeu en ligne hautement volatil et réservé aux joueurs avertis. Ce jeu est doté de graphismes de qualité qui plairont aux fans de métal, mais aussi d'un RTP par défaut de 96%.
Elle se compose de 5 rouleaux et 243 façons de gagner, où les gains sont créés lorsque trois symboles identiques apparaissent sur des rouleaux adjacents à partir de l'extrême gauche.
Jouez dans un environnement volcanique et infernal Devour the Weak se déroule dans un monde infernal rempli de démons, de lave et de rochers coupants. Les symboles de faible valeur sont les cartes de A à J, tandis que les symboles les plus rentables sont les quatre personnages du jeu. Le symbole Wild peut remplacer tout symbole régulier.
Fonctionnalités de la machine à sous Devour the Weak
La mécanique de gain DropDown Wins est centrale dans le jeu. Les symboles gagnants sont remplacés par des symboles tombants. Si une nouvelle façon de gagner apparaît, la fonctionnalité DropDown Wins se déclenche à nouveau. Une particularité du jeu est que les symboles gagnants sont supprimés, ainsi que tous les symboles de valeur inférieure ou égale.
Le jeu propose également un compteur de multiplicateur qui augmente chaque fois que vous gagnez et chaque fois qu'un symbole est dévoré. Le multiplicateur peut aller jusqu'à x666 et se réinitialise avant chaque tour.
Les symboles payants peuvent apparaître avec un orbe dessus, appelés hexed symbols. Lorsqu'un symbole hexed gagnant est retiré, il se transforme en un symbole Wild et contribue au compteur de tours gratuits. Pour activer la fonctionnalité Free Spins, il faut collecter six symboles hexed gagnants lors d'une seule séquence de tours. Le compteur se remplit et 10 tours gratuits sont attribués. Chaque point supplémentaire ajoute un tour supplémentaire.
Pendant les tours gratuits, tous les symboles hexed sur les trois rouleaux centraux se transforment instantanément en Wilds lorsqu'ils atterrissent. Le multiplicateur se réinitialise à x6 entre les tours gratuits et l'atterrissage d'un symbole de tours gratuits sur le dernier rouleau accorde un tour supplémentaire.
Vous pouvez également accéder à la fonctionnalité Bonus en payant une somme équivalente à 100x la mise pour obtenir 10-13 tours gratuits avec un multiplicateur x6. Ou vous pouvez payer 666x la mise pour acheter 14-17 tours gratuits avec un multiplicateur qui commence et se réinitialise à x33.
Verdict the cette machine à sous démoniaque !
Devour the Weak est une excellente machine à sous pour les amateurs de jeux hautement volatils et de graphismes de qualité. Avec ses fonctionnalités amusantes et ses multiplicateurs élevés, ce jeu offre des possibilités de gains incroyables. Yggdrasil Gaming continue de nous impressionner avec des jeux à thème infernal, et Devour the Weak ne fait pas exception.
Date d'ajout : 9 Mai 2023